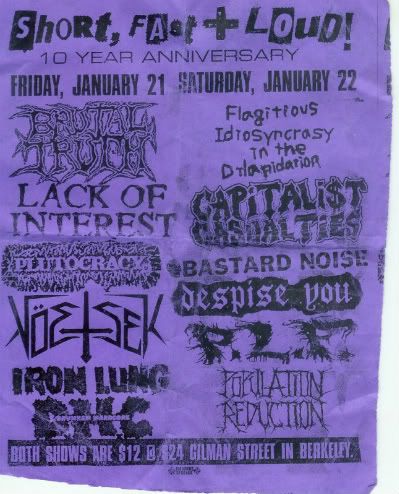 I went to this because I really wanted to see Flagitious Idiosyncrasy in the Dilapidation (FID) and it was awesome. While I was in the bay area, I met a really cute girl who was giving away free zines on shoplifting and stuff. We talked for a little bit, she was a second grade teacher. Brad kind of knows her, and he said that she sings in some band. Brad told me that he almost warned her because I brought her up in 3 conversations we had afterward, and apparently that makes me creepy. Sometimes I wish I could just climb inside the head of someone who was purported to have a healthy sexual/romantic interest in someone, and see what that was like, because I thought a simple crush where I talk to Brad about her a lot isn't that weird or creepy of a thing. Whatever. Fuck it.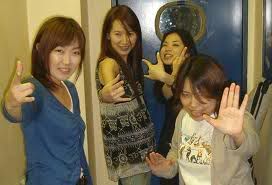 None of the women in FID I found exceptionally drop-dead-gorgeous, but they're all certainly cute, and to be completely honest, I'd rather go with someone in a band as awesome as FID than someone who's simply good looking. During Capitalist Casualties' set, I noticed that I was standing next to Kanako, the bassist. I tried to give her my spot, because we were at the back of the room, and I was hoping that she could see better from my position. She's quite short, and I felt sorry for her, since she traveled all the way from Japan to be at this show and couldn't even see past the person in front of her. At any rate, she still couldn't see from where I was standing.
During FID's set, I was in the smooshed up part of the audience that's in front of the mosh pit. I was standing next to a woman with orange fingernail polish who was really cute and rocked hard. After the show, I told her that I liked her style.
And that was it!