I've be watching Smallville with my father. We're on the second season. There's an episode where a woman named Tamara Feldman plays a girl with a lot of stereotypical Native American jewlery and flirts it up big time with Clark Kent. She's hot.
Here's a small picture of her from the episode. She sort of looks like the Tomb Raider.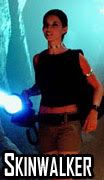 And here's a picture of her that's actually large enough so that you can see what she looks like.