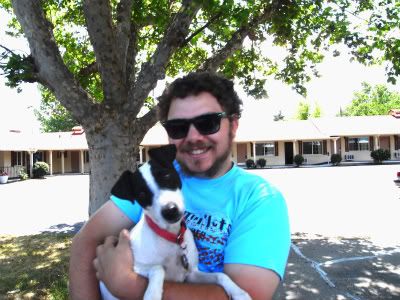 Nelly is my father's two-year-old Jack Russell Terrier. She is absolutely my favorite thing in the entire universe. My affection for her can not be understated.
Earlier this evening, I was feeling very glum. I've been utterly dissatisfied with my lack of social contact as of late. Also, I've been reflecting on my history of lacking romance and what it means for my romantic future is completely bleak ways. It's really got me down.
I was having trouble deciding if I should get tore up. I have a frenemy who said I could call her whenever I'm having trouble in life and feel like drowning my sorrows, so I thought about at least calling her first, but then I realized that it was the Saturday before Halloween, and she herself was probably out drinking, and wouldn't provide insightful or endearing conversation, if she picked up at all.
So I just kind of sat in front of the computer, unsure of what to do, and Nelly the wonderful puppy jumped up on my lap, and rested her head on my arm, which sort of made me unable to use the keyboard. She was shivering, so I decided to go lay on the couch and let her crawl under the blanket with me. We watched Assault on Precinct 13 and she fell asleep. At one point she tried to have sex with my arm, but other than that, it was a nice little evening, and it gave me an opportunity to not wallow in my depression.
Edit: I ought to give credit where credit is due. The photo above was taken by an awesome woman named
Rachel Hadishar
and I'm probably spelling her last name wrong.