I remembered something else. Last Sunday, at a
vegan potluck that my friends put on every Sunday
I was talking to this cat about out websites. I told him I do a website about girls I like, and that I'm very proud of it. He told me he has a website called
TacticalCorsets.com
, and I assumed it was a silly name for a website that didn't have anything to do with what the website actually did. Turns out I was wrong.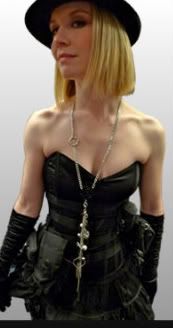 He gave me his business card, which had a different woman wearing a battle corset I asked him if that was his wife. He jokingly replied 'Yes, I marry all my models.' I said 'Well, you're a regular Fela Kuti.' and some people got it but most didn't.
Dedicated readers might remember,
Crissy Belle
. Her OKCupid profile said she liked Fela Kuti. I thought that was really cool. I am attracted to women who listen to Fela Kuti.