I've been quite busy as of late. I haven't updated here when I really ought to have.
First off, long time WWCL reader, Devon Turner, or Socorro, NM, notified me that I would probably have a thing for Terri Wahl, who used to be in Red Aunts and now has a cooking show.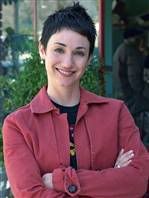 He's right!
Additionally, I thought I had a Red Aunts album, and I was saying to myself 'Hey, wasn't Exene Cervenka (of X fame) in that band? Turns out I was thinking of Auntie Christ. So maybe I don't know who Red Aunts are. I'm not sure though. Thanks to the Punk-O-Rama series, I've heard most bands on Epitaph from around that time, but I digress.
Secondly, about ten minutes ago someone alerted me to a new video/song by the female comedy music duo Garfunkel and Oates. I've had a crush on both of them ever since I first heard them (it was the song about pregnant women).
I'm kind of bummed out by this one, because Don't Stop 'til You Get Enough is my favorite Michael Jackson song, next to Smooth Criminal, and now I will probably be seen as less attractive in the band's collective eyes.
Earlier today, I asked
my lab partner, Jennifer
for her phone number, so that if I had a question concerning our homework I could ask her. Was I being genuine? You bet. Sure she's really cute and fun to talk to, but that doesn't change the fact that I'm kind of drifting off into space in the class and could use the help. She told me she didn't want to give me her number, because she was just as confused in class as I was, and she didn't want to lead me astray. I should have told her that in any case, two heads would be better than one, but I didn't think to say that until a second ago when I was getting a glass of water.
I think she said 'no' because I'm growing my beard out. I know very little about what girls like and dislike, but I get the feeling that the overwhelming majority of women dislike beards.
I know there's more women who I wanted to talk about, but I can't remember who now.