Tonight I made a new rule for myself: no more going to shows where I won't know anybody. Even though musically the show tonight was off the hook, the whole process of driving to San Francisco, parking in San Francisco, and hanging around rich San Francisco bohemians was distressing. If I had a mate there to chop it up with, things might have been okay, but otherwise it's more trouble than it's worth.
With this backdrop in mind, let me say that rich San Francisco bohemian women are, seemingly without exception, absolutely gorgeous. Everyone was all dressed up in formal evening wear, and women were classy and fashionable. You know the expression 'She's out of your league.' Well, this is the league that all those women play it. A League of Their Own.
The band I was at Cafe du Nord for was Rykarda Parasol & The Tower Ravens. Parasol herself is quite the knockout.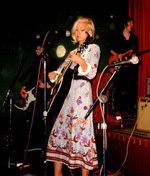 The reason I know about the band is because I interviewed her for the Chico News & Review a couple of years ago. You can read that interview
here
. I suppose that if I worked really hard at it, I could hoist myself up into the world of cool that she lives in, but I'm not terribly sure that I would be happy in that life.
This post has little to do with cute girls. Sorry about that. There were an abundance of cute girls at the show. I also saw a cute girl in the parking lot at the bank today. Or maybe it was yesterday. I can't remember.