I just got done spending the last three days at
NorCal NoiseFest
. I've wanted to go to it for a long time, and this was one of those weekends where I really needed to get away from everything in my life. I'd like to talk about how incredible the experience was, but that isn't the nature of this blog.
The first night, after the show was over, there was a party in this guy's office, and I mentioned to
Andrew
that we should go in case any cute girls were there. Andrew lamented 'The only cute girl who ever comes to NoiseFest is Bjorn.'
While the afterparty itself was certainly a cute girl free zone (I think there was one woman there, and she was seeing someone, and there was an age difference thing that was very pronounced), it became very apparent the next morning that Andrew's observation was about to be turned on its head. I lost count, but a rough estimate of somewhere between twelve and fifteen cute girls were present. A few were there to support their boyfriend's band, but at least three or four were actually doing noise projects themselves, and I know I'm not alone when I say that there are few qualities in a woman more attractive than being in an awesome band. Especially if they're in an awesome band because they like doing music. I've seen a few bands where someone in the band had a crush on a girl, and invited her to play bass in his band, hoping that if he made her part of a cool band she'd be into him. That's not as attractive.
On the third day, around eighteen thirty in the evening, I met Bjorn.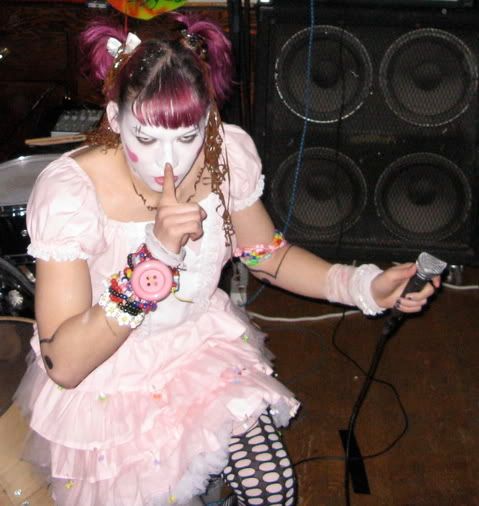 Bjron is the proprietor of a band called 'Kawaiietly Please.' Spelling 'quietly' this way makes me feel like pronouncing the word the way
Nina Hagen
might say it. The band consists of her creating tones and loops and stuff with effects pedals and the like (In case you're not familiar, this is a common noise setup.) with a drummer beat-blasting. At the show they did yesterday, Bjorn presented the audience with several boxes of cheaply made stuffed animals, which the audience were then allowed to fling around the room, or tear to pieces, or create any and all other mayhem with. Oh, and she made herself up like some kind of combo between Raggedy Ann and Rainbow Bright if they both had taken up a life of crime to fuel their cocaine habits. So it was a pretty fun and intense show.
There were many cute girls, but all my crushes very quickly (Kawiickly) went to Bjorn. She's adorable, and extreme, and the short conversation with her that I had before she was drunk made it seem like she was probably pretty cool. Still, a couple of red flags went off:
A: She's from LA, and I could go on for a while about how much I loathe LA.
B: Sometimes, I feel like people who perform with an over-the-top visual display, are actually covering up for the fact that deep down inside, they're really boring. This has been my big complaint about Marilyn Manson. I didn't get a chance to sit down and chat with Bjorn enough to make sure that she's not just another Marilyn Manson. That would stink if she was.
As long as I'm in the bay area, I guess I shouldn't worry about it.
Oh, and we were having breakfast on somebody's porch on Saturday, and a cute girl at an autobody shop across the street started setting off firecrackers. Reckless behavior is sort of attractive, I guess.