My shrink
believes that if I start taking a fairly heavy dose of anti-depressants, get more exercise, get on a better sleep schedule, and keep up with counseling, that I'll be able to conquer depression at least until I have some sort of mortifying life experience. This is good news, because I am so blue right now that I can't stand it.
I tried to do the make more friends thing today. I messaged this girl on okcupid who messaged me back in the day because we both like Richard Brautigan, and I told her that I really just wanted a solid foundation of friendships and was she interested in that. Then I messaged
Crissy Belle
and told her more or less the same thing. Finally, I e-mailed some gal off craigslist who sounded cool. None of them got back to me. I can't even make any new friends. That's how totally fucked I am with women.
I do have one friend who I made recently,
Rachel
. Her husband, Ali, sent me a bunch of pictures that we took on our outing together, and I finally got to see them because I can download them on my parents' computer.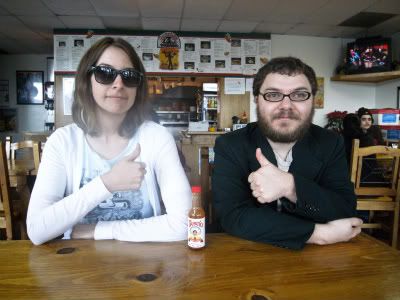 With Rachel's glasses on, my facial structure bears a striking resemblance to
Jennifer
, so she probably should have dated me, because rest assured that we would have had very good looking children together.
Also, that picture was taken at
Los Dos Gallos
.